Chatham, ON – On April 8, 2021 at 1 pm the winning ticket for the CK Charity 50/50 Raffle was drawn and the winning ticket was purchased by Jenny A. of Blenheim, Ontario. Jenny was awarded the jackpot prize of $52,735.
"I need a bit of time to think about it but… do some house repairs, pay down some debts, and put it towards my husband's retirement!" said Jenny when asked how she planned on spending her winnings.
The CK Charity 50/50 Raffle launched on February 1st and almost 3,000 people purchased tickets. The raffle was a joint effort between the Chatham-Kent Hospice Foundation and the Children's Treatment Centre Foundation of Chatham-Kent. The net proceeds from the raffle will be divided equally between the two organizations and be used to support people in our community from infants to seniors who are served by these organizations.
Thank you very much to our generous sponsors of this raffle – The Lally Group, Greenfield Global, and Teksavvy.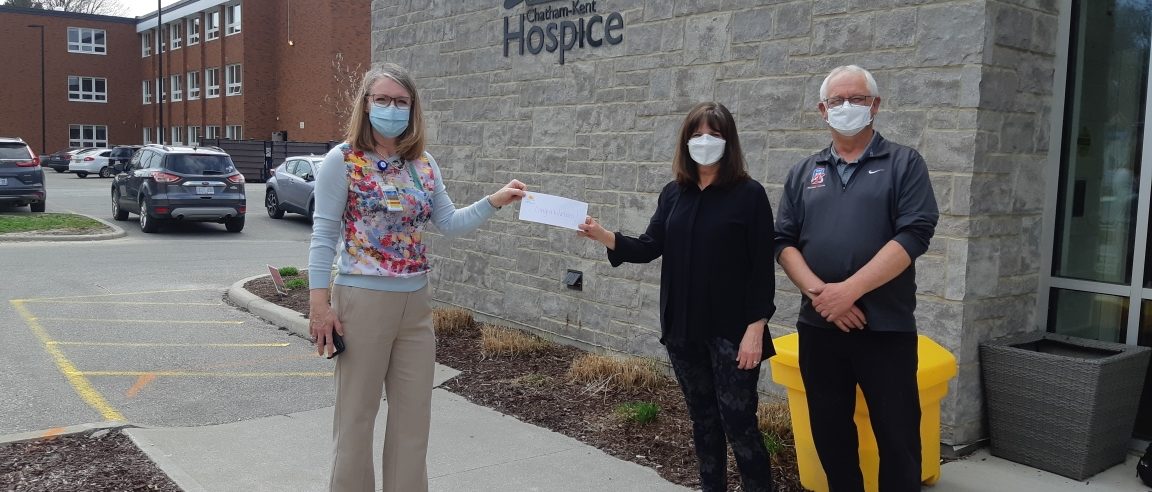 In Photo: Jodi Maroney (CK Hospice Foundation Executive Director) presenting cheque to Jenny and her husband.
—————————————————————————————————————————–
CK Charity 50/50 Raffle (RAF1200586) is licensed by the Alcohol and Gaming Commission of Ontario (AGCO) and conducted in accordance with AGCO-approved rules that can be found on the CK Charity 50/50 Raffle website at www.ckcharity5050.com. The draw was made using Random Number Generation (RNG) – a proven technology approved by the AGCO. Bump Worldwide Inc. provided the technical and systems expertise for sales, accounting, and the draw.
Media Contacts: